Provision of goods lift in a distribution ware house
Nandan GSE was approached by a customer to provide Goods lift and to install it without the provision of lift shaft .As the customer had a fully set up warehouse as per international standards and however access to first floor was not provided through the lift and they were restricted in the movement by using stairs.
Client: Amazon
Location: Guragaon
Product Class: Goods Lift
Type: Highly Customized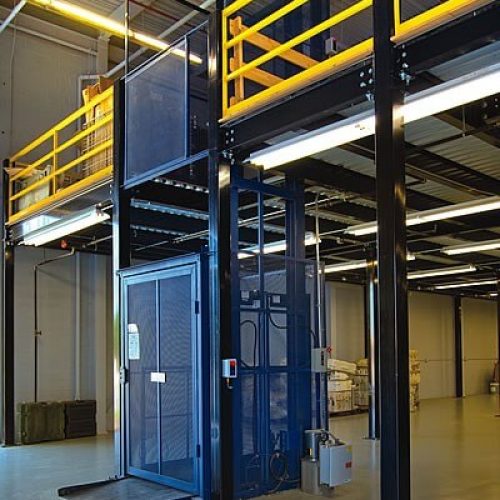 Solutions:
NANDAN GSE visited and surveyed the client site and came up with a solution, Designed cantilever hydraulic lift with self supporting structure unit as per the site requirement . This Lift was installed in such a way that it could be installed outside building in fixed position. Then entry and exit section of the lift was made as per trolleys and pallet transfer could take place in ease. A small pit of 300mm deep was created to locate the platform so that platform comes level with the ground without any slope.
Specification:
Capacity :500kg
Travelling Height : 6m
Platform dimension :1.5*1.5m
3phase 5hp power pack for load of 1000kg
Safety Features:
Waterproof cage
Collapsible doors with interlock movement as conventional lift
This Hydraulic lift made customer goods movement much more optimum and customer has migrated much more of his items into trolley and pallet based loads so that movement can be done with one person.