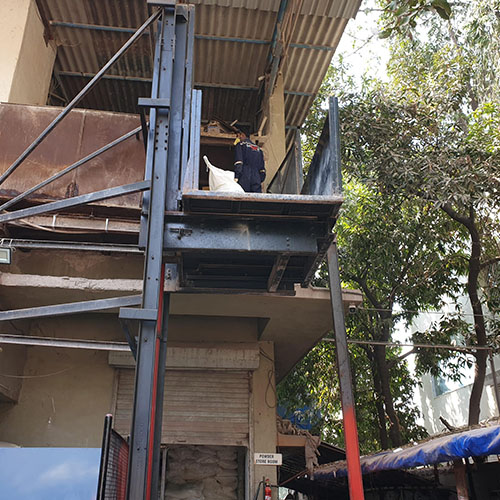 Intime Fire is all about safety and efficiency.With the first and only state of art factory, combined with automation, alien to the industry of the time, the founder truly rattled the mundanity of the then industry functioning. Intime Fire, what appears today, is a reflection of the roadmap. Intime Fire contacted us for helping out with their Material Handling Requirements which is carrying of Gunny bags filled with powder from the ground to the first floor.  
We proposed an outdoor Goods Lift for carrying Gunny bags from the Ground floor to the first floor efficiently.The top priority was safety and speedy transport of goods so that there is minimal loss of time. They were using an Electric Hoist before they approached us. We straight away showed them the huge advantages of a Hydraulic Goods lift & the zero maintenance needed.    
Nandan's Goods Lift eliminated all safety concerns involved with the handling of goods.
The Goods Lift improved their Productivity to a great extent.
It saved a huge chunk of time because of faster loading & Unloading of goods.
A lot of labor was saved due to which safety & cost effectiveness increased.