Customized tail lift for a logistics company
Nandan GSE was approached by a leading Logistics company to manufacture a tail lift with the proviso that over all weight was less & tail lift would go above the body of the truck.
Client: Casby Logistics
Location: Mumbai
Product Class: Tail Lift
Type: Customized and reusable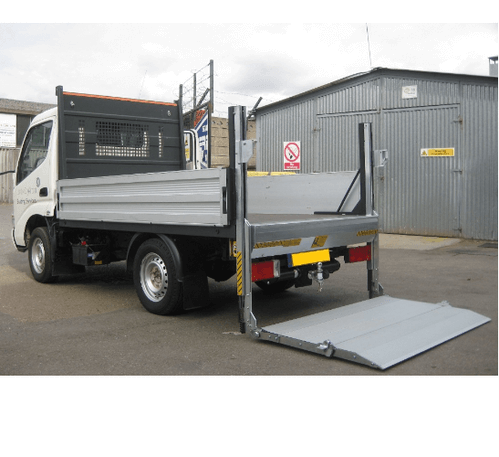 Solutions:
NGSE discussed with the Client the exact need, visited the warehouse to understand the same from the end User before the solution was arrived at. The lift was designed with a rear cantilever platform placed inside the body so that the door could be closed and locked if required . Lifting up and down was achieved using a vertically placed cylinder and rope mechanism instead of the under slung mechanism used in the conventional tail lifts, there by reducing the overall weight and the recurring damage while travelling on the road. The change in design also enabled the platform to be lifted approx 300 mm above the body there by allowing a slope to be created for smooth passage of trollies and pallets while loading from the dock to the truck in the warehouses.
Specification:
Capacity: 500 kgs.
Travelling Height: From ground to 1300mm -1600mm
Platform Dimensions: 1300mm by 2000mm.
Power: through the Vehicle PTO installed in the vehicle.
Pilot Check Valve put in the Hydraulic System and hand Pump to lower the tail gate in case PTO is non operational.