Car Scissor Lift For Over Head Parking
One of the issues that NANDAN has been working on for some time is to offer maximum comfort level & cost effectiveness for small high loaders while in operation,
NANDAN tried using different chassis from top notch manufacturers but at the end comfort, capacity & cost of operation was still a problem.
Client: Hindustan Petroleum Corporation Limited
Location: Mumbai, India
Product Class:  Single Scissor Car Lift
Type: Standard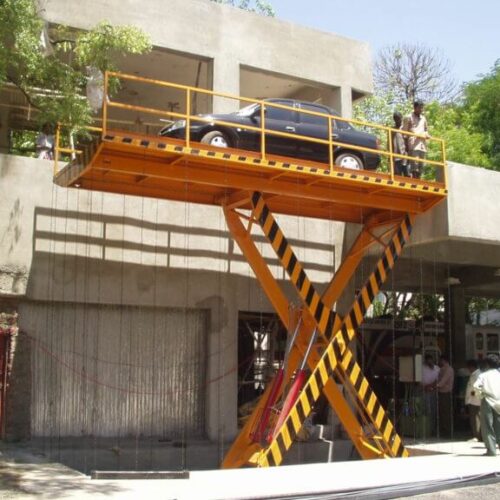 Solutions:
Nandan GSE PVT LTD designed the customized Car Lift with a Single Scissor & installed it for the client in a matter of 6 months. The Scissor Lift platform was designed so that when the car is flushed to the ground & the railings removed, it forms as a continuous flow.
When the Car Lift needs to be operated, the railings will be deployed, the car will be parked on the Platform, which in turn will lift the car up to the upper floor & the car can drive out.
The upper floor can be used for multiple applications like Car Detailing shops, workshops & the most important aspect of the lift, Parking!
Nandan GSE tendered & won this contract & installed the Scissor Lift in 8 weeks which is performing satisfactorily.
There are more than 15 cars parked on the upper floor which would have been a waste of precious space in a Prime Locality like Bandra.
It improved customer PRODUCTIVITY , PERFORMANCE  &  SAFETY.