Aircraft maintenance Truck mounted Lift
Nandan was invited by Kamala Builders & Developers (India First made in India Rotary parking system), Mumbai (MH) for providing the solution for park 10 cars as space only two cars.
They were concerned about the Automated vertical parking system for a park at least 10 cars in little space.
Save time and effort by using automation and not doing it manually.
Client: KLM Royal Dutch Airlines
Location: Mumbai International Airport
Product Class: Truck mounted scissor lift
Type: Highly Customized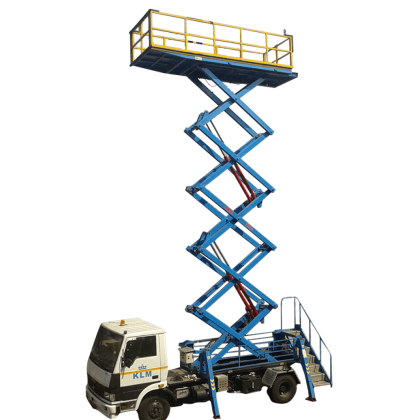 Solutions:
Nandan figured out the correct need of the customer and gave them a solution which they accepted it and provided an opportunity to make it. Rotary parking system which is used for park more than 6 cars in just space of two cars. This is vertical multilevel parking system, work on simple fabricated chain sprocket design.
Specification:
Capacity :500kg
Travelling height :8000mm
Platform dimension :3300/1500mm
Source of power :Vehicle PTO
Safety Features:
Sensor to cutoff at the minimum and maximum height.
Sensor to give warning while platform approaching the aircraft .
Sensor to ensure the platform was not raised without deploying the stabilizers.
Maintenance operation were carried out easily with safe working condition Equipment compliance with safety standards and highly reliable.